MARS TURBO 200 Run Capacitor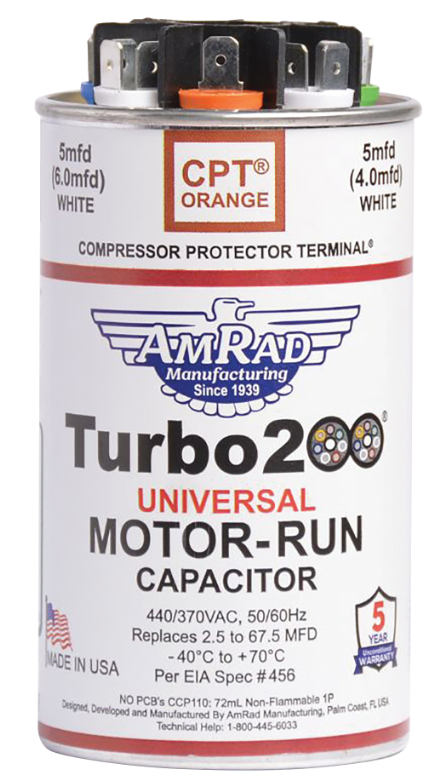 Say goodbye to cluttered inventories and hello to the MARS Turbo 200 Run Capacitor. This versatile solution replaces over 200 individual capacitors, streamlining installations and repairs by allowing you to have the right capacitor for every job, every time. Using the provided jumper wires to select the desired capacitance, one capacitor can replace run capacitors ranging from 2.5-67.5MFD saving time and eliminating the need to stock multiple capacitors on your truck.
Some of the unique benefits the MARS Turbo 200 Run Capacitor features include:
CPT® terminal acts as a kill switch between the hard-start and compressor in the event of a failed run capacitor, preventing damage and possible compressor failure.
Filled with a thick non-PCB dielectric fluid to reduce heat
Rust free all brass terminals
These truly universal capacitors are made in the USA and offer a 5-year warranty ensuring that this is a product that you can trust to be reliable. Upgrade to the MARS Turbo 200 Run Capacitor and unleash the power of simplicity and efficiency in your HVAC repairs.
Click below for additional product information and to check pricing & availability at a location near you.
---