INTRODUCING THE NEW RUUD®
CONTRACTOR APP
REQUIRED FOR ENDEAVOR™ LINE PRODUCTS WITH BLUETOOTH® TECHNOLOGY
CONNECT. INSTALL. SERVICE.
Ruud has improved and redesigned the Ruud Contractor App to offer the most intuitive, powerful and easy-to-use features in the industry. Whether you are on a residential service call or installing 20 units at a major site, the free Ruud Contractor app's Bluetooth® technology paired with a Bluetooth enabled unit, makes setup and troubleshooting simpler than ever. You will save time with industry leading diagnostics and be assured that the installation is done right, the first time.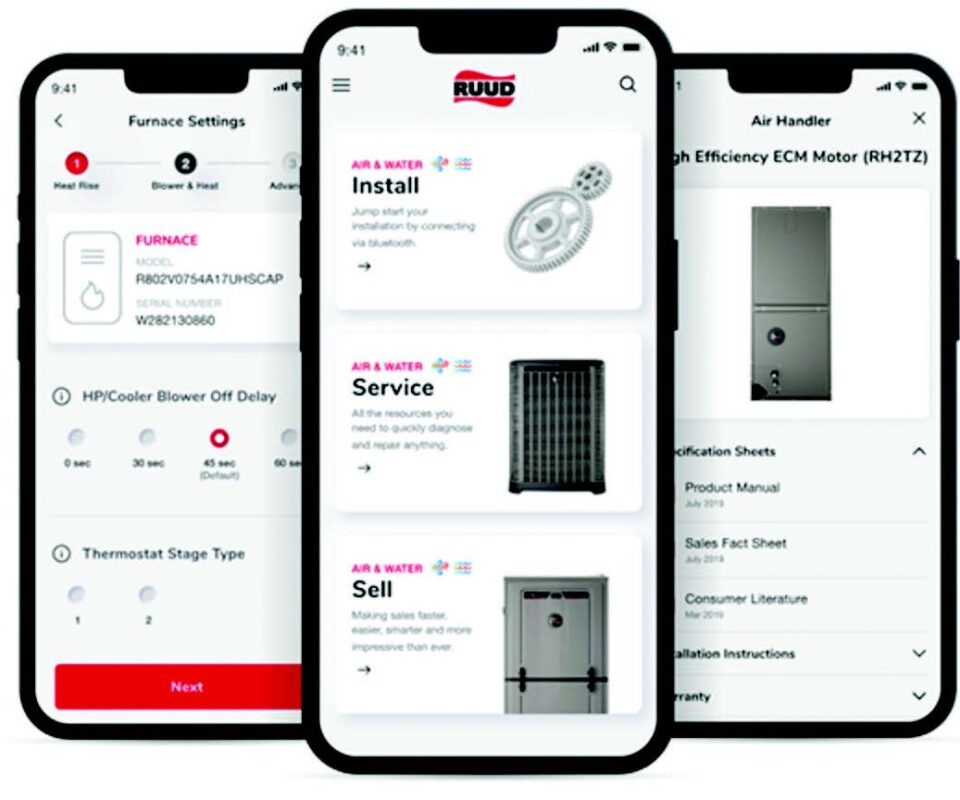 WITH THE CONTRACTOR APP AND ELIGIBLE EQUIPMENT:
EASY INSTALL
• Streamlined, faster and easier setup via Bluetooth technology
• Hassle free Charge mode in the app
• Ensure proper operation after installation with sensor and unit status

The Ruud Contractor app is required for setup and commissioning of the Endeavor line products with Bluetooth® technology.
EASY SERVICE
• Guided, step by step repairs
• Diagnose active alarms and view alarm histories
• Access detailed system status and information

The Ruud Contractor app also offers powerful support for all our products, with a new Product Technical Support design that is easier to use and more accurate than ever.
ACCESS PRODUCT TECHNICAL SUPPORT
• Access installation instructions
• Share and download manuals
• View technical sheets
• View service notes
TRACK WARRANTY INFORMATION
• Access installation instructions
• Share and download warranty certificate for HVAC products
LOCATE DISTRIBUTORS
• Look up distributors
• Map view with directions
RESEARCH
• Find up to date rebate information
• Confirm AHRI information and certification
• Research financing options
Available for iOS and Android:
Download the new, free Ruud Contractor app from the stores now.

Note: The existing Ruud Contractor app may not update to the new one automatically. Turn on the auto-update option on your phone to get the latest version of the app as soon as it becomes available.