June 26, 2023
Install Smarter, Not Harder with Link
The award-winning communication technology designed to simplify installation, commissioning, and remote monitoring of variable speed HVAC systems.
Trane is pleased to announce the national launch of Trane® Link™. Link is a next-generation communicating platform rolling out across the Variable Speed portfolio that wirelessly communicates with the Trane Diagnostics mobile app, helping to ensure installation accuracy and faster commissioning during the installation process.
Created to provide technicians with a plug-and-play experience, Link technology assists with installation accuracy through automated HVAC system configuration, charging and testing. Integrated into Trane's new line of variable speed systems, Link technology connects the units through a centralized brain and alerts technicians of any equipment faults.
Link currently offers connectivity to a line of Trane variable speed units that include:
Trane XV20i 18 heat pumps and air conditioners
Trane TAMX air handlers
Trane S8V2-C Furnaces
Corresponding Link-enabled smart thermostat and system controller
Accessories – SmartChargeTM Solenoid Kit, Air Handler Pressure Transducer Kit, etc.
Technicians can ensure a speedier setup as Link technology allows the technician to use a Bluetooth mesh connection and the Diagnostics Mobile App on their phone or tablet to self-identify the equipment and walk them through the installation. Once a homeowner opts into the diagnostics program, technicians can also remotely monitor the system; receive alerts from any faults; as well as view, edit, and adjust thermostat settings as necessary.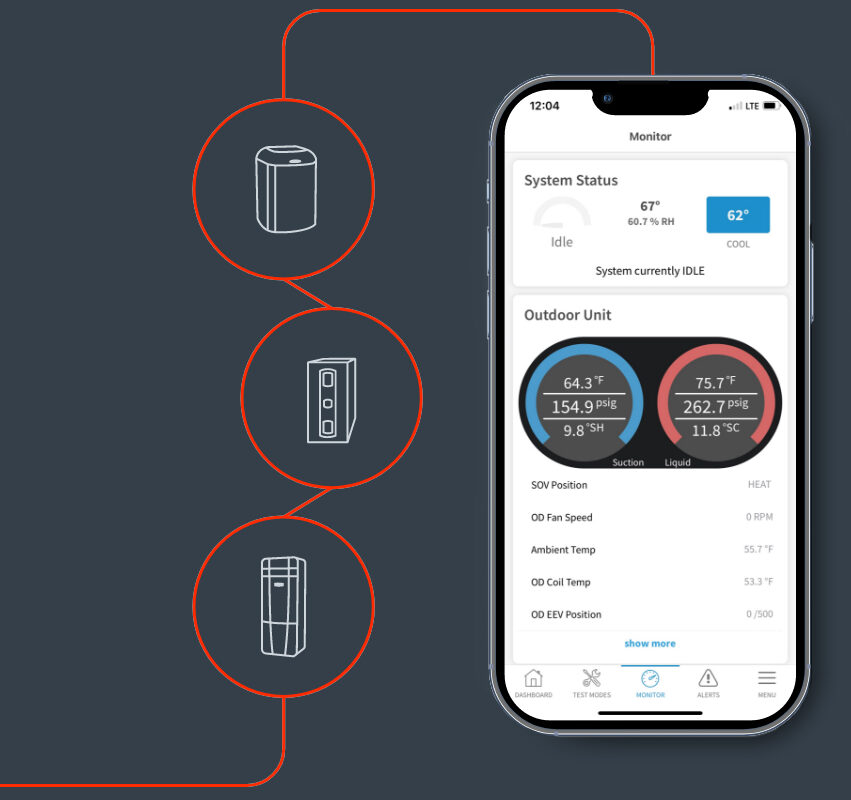 Simplified
Once each component is connected, the system auto-configures and allows technicians to review from their devices.
Verified
Sensors in Variable Speed systems ensure the installation is accurate before the installation team leaves.
Monitored
Future issues with the equipment can be diagnosed immediately when remote diagnostics is enabled, giving peace of mind to technicians and homeowners alike.
From the moment it's turned on through the life of the unit, Trane Link makes installation, maintenance and service smarter. Sensor-verified installs mean you can leave every job confident it was done right—which means fewer callbacks. And with remote diagnostics, you'll know about system changes (along with the tools and materials you'll need) before you even step onsite.
Real time updates that save you real time on install and maintenance. With Trane Link, technicians are guided step-by-step from their phone or device, saving time and maximizing efficiency on installs. When the installation is complete, the Trane Diagnostics mobile app verifies it was done correctly, limiting callbacks and complaints. Then, for the lifespan of the unit, remote diagnostics can provide realtime updates, so your team knows the problem and solution before they arrive.
Welcome to work without guesswork. Click here to learn more.