April 28, 2023
MARS Azure Motor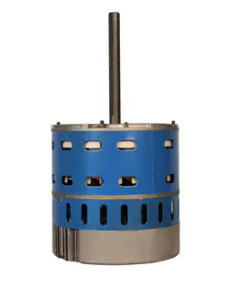 The Azure™ Digi-Motor® from MARS is a high efficiency variable speed motor that is simple to install and replaces most motors.
Blower Motors
Two Azure™ models replace virtually all PSC and X-13 motors.
Two motors cover ratings from 1/5 HP to 1 HP at 115V or 230V and clockwise or counter-clockwise rotation.
Exclusive onboard software auto sizes every application. In start-up learn mode, Azure runs for approximately two minutes measuring the external static pressure of the system application. It then assigns torque values to each of its speed taps self programming itself to the correct HP for the application
The outboard surge protection is located within the motor wire harness and can be easily and affordably replaced. This prevents costly repairs on the most common mode of failure on motors.
Only ECM motor assembled in USA and includes a two year warranty
Condenser Fan Motor
The Azure Condenser Fan Motor is an ECM motor that replaces all 208/230V, 825/1075 RPM condenser fan motors up to 1/3 HP.
The Azure™ condenser fan motor connects the same as a standard PSC condenser fan motor, but WITHOUT the capacitor. Just plug the motor into a 115V power source (using supplied programming cable) and select 1 of 4 operating modes and then install the motor:
1075 RPM CW
1075 RPM CCW
825 RPM CW
825 RPM CCW
Unlike other ECM motors, an outboard surge protector is included with the Azure™ wiring harness. This is a replaceable device that is much less expensive to replace than replacing the entire motor in the event of a power surge.
For more information on the MARS Azure motors, click here.