Ruud® Advertising
iCreate Local is an easy-to-use, online marketing platform to help Dealers grow their business using a variety of marketing options, such as direct mail, print media, email and text messaging. Select from predesigned templates or create your own with ready-to-use content, lifestyle and system images. You may also upload photos of your logos, trucks and crew.
PREDESIGNED AND READY TO USE
DIRECT MAIL
• Lead Generation Cards
• Thank You Cards
• Reminder Cards
PRINT MEDIA
• Flyers, Tri-Folds and Brochures
• Presentation Folders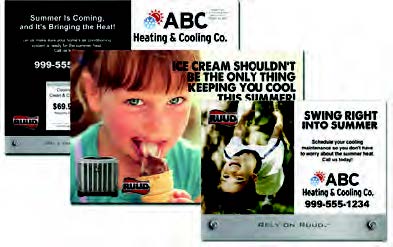 PRINT MEDIA
• Flyers, Tri-Folds and Brochures
• Presentation Folders
NEIGHBORHOOD TOOLS
• Yard Signs and Door Hangers
• Stickers and Magnets
• Neighbor Network Plus NEW!
REPORTS
• Co-Op Reports
NEIGHBORHOOD NETWORK PROGRAMS
Our Neighbor Network programs are our most popular lead generation options, allowing you to advertise around your most recent customers. Choose from direct mail, Facebook and Google advertising or combinations of the three. You provide the customers' addresses as you complete a job, and we'll schedule the advertising within a one to five mile radius of their home. Prefer to target zip codes? Provide those on sign-up, and we'll schedule the advertising over the course of the campaign.

NEIGHBORHOOD NETWORK PLUS – Our Most Popular and Best-Performing Program
The Neighbor Network® Plus program combines our direct mail program with the added benefit of reaching the same target area with Facebook marketing ten days before the mailers arrive, increasing the potential for response!
• Customized Mailers – Provide your logo and offers, we design the cards for your approval.
• Coordinating Facebook Ad – Includes street name of the customer whose neighbors you wish to target.
• Weekly email reminder and link make adding customer addresses easy.
• Facebook Ads delivered to one-mile radius around customer address.
• Ad delivery begins within 24 – 48 hours of receiving address and continues for ten days.
• Lead Generators delivered within 10 – 14 days to target demographics around customer addresses.
• Homeowner receives a Thank You card.
• Programs available for heating and cooling seasons with coordinating graphics.
• Campaign pricing is per season.
Log in to start using it: www.icreatelocal.com
Enter your email and password. If you do not know or forgot your password, click the Forgot Password link.