Ruud® RepBooster
The Ruud® Online Reputation Management Program makes it easy for Pro Partners to improve their online reputation with:
• Review Monitoring: Monitor reviews on Google & Facebook
• Review Notifications: Receive alerts when a new review appears online
• Respond: Pro Partners can respond to reviews directly from the dashboard
• One Central Dashboard: Available on their desktop, tablet or mobile device
• Simple Review Requests: Pro Partners can enter the customers name and phone and/or email address then click send. It's easy and fast for anyone to request a review right from the contractor app.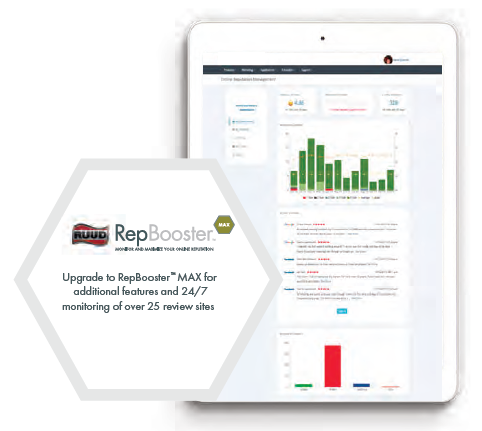 GETTING STARTED:
To access RepBooster program features,
Pro Partners will need to visit
My.Ruud.com > Marketing > Programs > Pro Partner > Rep Booster, and click the "Login" button.

Upon first login, contractors will need to activate their Facebook and Google review monitoring through the RepBooster program.

Activation is completed by following the guided setup procedure and logging into their Facebook and Google profile pages. After their first login and initial setup, they will be able to access the RepBooster dashboard.