July 20, 2023
Nu-Calgon EasySeal Ultimate Leak Seal/UV Dye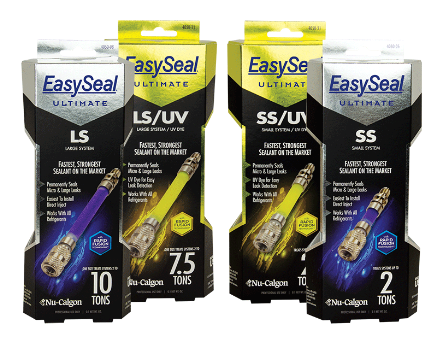 Experience the ultimate solution for refrigerant leaks with Nu-Calgon's EasySeal Ultimate. Perfect for split systems, microchannel coils, packaged units, and mini splits, the EasySeal Ultimate is the strongest and fastest leak sealant on the market. Used on systems up to 10 tons, the EasySeal Ultimate works with all refrigerants and offer an option that includes UV leak dye to aid in leak detection if the system leaks again in the future.
Installation is a breeze for technicians, as there is no system pump down necessary, and no injection hose or caulk gun needed. Simply connect the sealant tube to the service valves and use your manifold to directly inject the sealant into the system. EasySeal Ultimate is OEM approved not to clog manifold gauges and it is proven not to plug TXV's, cap tubes, and orifices. Don't let refrigerant leaks slow you down. Upgrade your repair arsenal with NuCalgon's Easy Seal Ultimate and experience the pinnacle of HVACR sealant technology.
Click below for additional product information and to check pricing & availability at a location near you.
---