July 14, 2023
Same Great Service For Both Trades
Doing business with Ferguson just got easier.
Beginning July 31, you can do business with any Ferguson HVAC or plumbing location in Florida using just one customer account.
You get the same great service and the products you need across both trades with the convenience of just one statement, one Ferguson.com experience and one team of professionals on the phone who have the experience and knowledge to get you what you need.
You may notice a few changes in an effort to serve you better:
A new account number: Check your statements beginning Sept 1 to make note of your single customer account number going forward as it may have changed.
Temporary Ferguson.com downtime: As we make changes to our systems, Ferguson.com accounts will be unavailable the evening of Friday July 28 through Sunday July 30.
Invoice visibility: When making payments online, your invoices across HVAC and plumbing locations will be in one place. However, details for certain invoices may be limited. If you require copies of invoices that do not show available online, please reach out to us at admineast.credit@ferguson.com and we will be happy to assist you.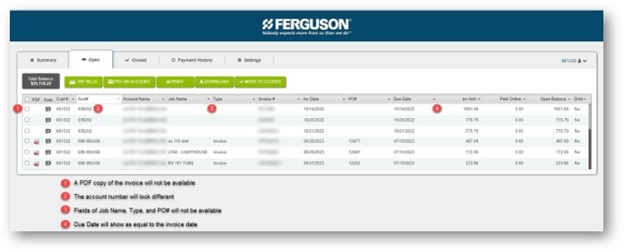 We thank you for your partnership and look forward to working together to make your complex projects simple, successful, and sustainable. If you have questions or concerns, reach out to your local Ferguson associate.