July 21, 2023
Bluon TdX 20: R-22 Replacement
Bluon TdX 20 (RR458A30) is the only R-22 replacement that is a complete solution for HVAC technicians. It is more energy efficient than R-22 with virtually identical capacity. Bluon has a lower GWP than any other replacement and perhaps most importantly, offers the first and only industry-first comprehensive technical support.
TdX 20 has an unique additive that allows it to completely mix with MO or POE oil. That means no oil change and unmatched oil carry through the system.
Save capacity
15% more energy efficient than R-22 on average (up to 25% in some cases)
Lower operating pressures and temperatures
Backed by the Bluon app and 24/7 expert technician support
TdX 20 delivers virtually identical capacity to R-22 as demonstrated in extensive field testing and third-party independent testing. Other R-22 replacement refrigerants make claims of comparable or "similar" capacity, however extensive tests and HVAC market feedback indicate they simply don't perform at R-22 levels not to mention they consume more electricity than R-22. TdX 20 is the first alternative that truly creates R-22 comparable capacity while reducing your electricity consumption.
Ideal for:
Package units
Heat Pumps
Split Systems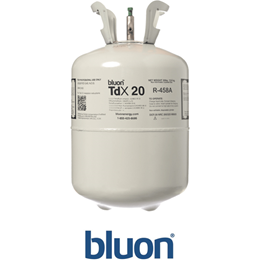 ---