June 21, 2023
Hardcast Products
Hardcast provides superior products and engineered solutions to ensure the sustainability of your HVAC system. Hardcast formulations include U.L. listing, U.L. GREENGUARD Gold certification, True Zero VOC content and 10 Year Warranties. Duct Sealing and Airflow Management systems that exceed industry standards and are engineered to ensure fast, consistent, and accurate installation. Hardcast products and solutions deliver maximum efficiency, unparalleled quality, and unmatched savings.
CCWI-181
CCWI-181 is a versatile all purpose duct sealant that can be used on all types of metal duct, flex duct, duct fabric and fiberglass duct board. It contains a polyester reinforcement giving it exceptional strength. CCWI-181 contains UV inhibitors, making it suitable for both indoor and outdoor applications. CCWI-181 is non-flammable and mold and mildew resistant. Available in gray and white in both gallon pails and 11 oz. cartridges.
Foil-Grip 1402
Foil-Grip 1402 is a pressure sensitive, 40-year cycle, duct joint and general purpose rolled sealant. It provides an instant water resistant grip to most surfaces including sheet metal, duct board, flex board, PVC coated duct, and duct wrap vapor barriers. Foil-Grip 1402 is suitable for sub-grade application on PVC coated duct.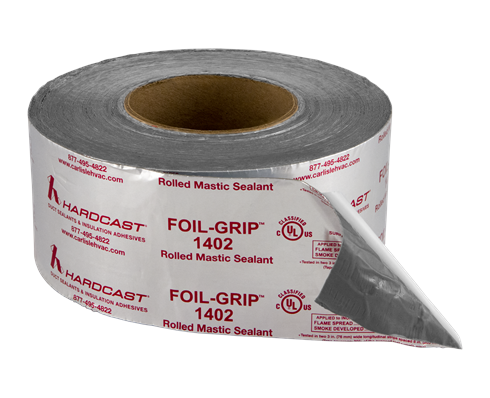 ---